RUN RABBITS, RUN
It was clear from their opening match of the season against the Roosters last week that coach Wayne Bennett has freed up Souths' structure. In commentary for Channel Nine, Phil Gould made the point that they were using the ball more, taking it into space. In the second half, they tightened up a little bit when they were under pressure and fatigue, but their forwards just dominated. Halfback Adam Reynolds played one of the best games I've seen from him. His kicking was dynamite. He even ran the ball a few times.
Souths have made a few important changes in the off-season. Greg Inglis at right centre is the right move. I don't know if he has the mileage in his legs any longer to play fullback, where you never stop running. It says a lot about his ability that he's playing on the right; he's played most of his career at centre on the left. Braidon Burns on the left was also fantastic last week. It's all left-foot step, but his footwork is fantastic.
Souths have a superior bench in this match. Liam Knight is a young bloke who came on for them last week who also impressed. I saw him come through the ranks at Manly with Jake Trbojevic. Knight looked like he would be something special, but he lost his way. He went to Canberra and has now popped up at Souths. Against the Roosters, he showed some signs that he had his head on. He'll come on after 25 minutes, play in the middle and make a real difference.
WIDDOP IS A SIX NOT A ONE
The Dragons moved Widdop to fullback this season to accommodate the signing of Corey Norman. It's a mistake. Last year, for the first three months of the season, Widdop was the best player in the competition wearing the No.6 jumper. I'm sure there's theories and reasons behind the decision to sign Norman, but I'd be putting Widdop back to five-eighth. How coach Paul McGregor shuffles his side around from there, I don't know. Perhaps he plays Norman and Widdop in the halves, with last year's regular fullback, Matt Dufty, moving back to one. The coach might have to play Ben Hunt off the bench as a dummy half, although he's their highest-paid player so it's tricky.
I just don't see how Widdop, Norman and Hunt are going to share the quality ball throughout this season. Something's going to have to give but, no matter what, Widdop has to go back to five-eighth.
Aside from that, they have problems up front. No Jack de Belin. No Tyson Frizell. No Korbin Sims. Their forwards are really going to struggle without those guys because their absence pushes up guys like Jacob Host and Blake Lawrie into the starting back row. They've only been playing 15 to 20 minutes off the bench and now they're starting the game, against a strong forward pack. It puts pressure on them.
PLAYER TO WATCH
Souths lock Cameron Murray is the one to keep an eye on. I know I keep raving about him in Nine's coverage, but it's with good reason. He will one day captain Souths and he will one day captain representative teams. He speaks well, he's well educated, he thinks about what he's going to say. And, as a player, he does all their set-up work. He's built close to the ground, but he's got footwork and speed so he digs into the line when he carries the ball. Then he plays the ball so quick; usually in two or three seconds. So Souths more often than not play off the back of him. I'd like to see at the end of this year how many tries Souths score from him playing the ball. He will play Origin this year if Souths continue to play like they did last week.
JOEY'S NOTEBOOK
Your best players attract all the eyes. They are your best decoys. They don't get much better than Sam Burgess and Greg Inglis.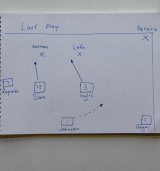 Souths ran a play late in the game against the Roosters. Inglis ran the decoy and Latrell Mitchell only had eyes for him. Roosters winger Daniel Tupou was on the paint in the corner waiting for the kick and Souths fullback Alex Johnston skinned them on the outside.
Against the Dragons, Souths will again have Burgess and Inglis on the right. They'll run at the same time at Corey Norman, on the inside of him and on the outside of him. Because Inglis is the player he is, Dragons centre Tim Lafai will also come at him.
When any team runs this formation, the opposing winger will come flying out of the line to stop it. But when teams do it on the last tackle, the winger – in this case for the Dragons its Jordan Pereira – holds the paint waiting for the cross-kick. If Inglis and Burgess do their job, Adam Reynolds will get the ball to Johnston out the back. If Pereira comes in, Johnston just passes to Dane Gagai to score in the corner.
JOEY'S TIPS
To win: Souths by 14
First try-scorer: Braidon Burns