More than 500 people rolled up, some wearing Winx caps and polos, and there was a round of applause as she returned to scale.
Jockey Hugh Bowman had never seen anything like it at a track gallop.
Winx appears to have just four more races before she goes to stud and becomes a mum.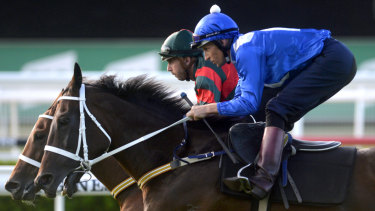 There will be next Saturday's group 2 Apollo Stakes (1400m), the group 1 Chipping Norton Stakes (1600m) on March 2, the group 1 George Ryder Stakes (1500m) on Golden Slipper Day, then her »swansong» in the group 1 Queen Elizabeth Stakes (2000m) on what will be an emotional and jammed-packed April 13.
Shooting for her 30th straight win, Winx can take her massive earnings from $22,934,925 to $26,319,175.
The 88 horses who lined up at Warwick Farm after scratchings on Saturday had won a combined $20,026,235, which included Golden Slipper winner Estijaab.
«Racing is like no other sport, no sport remains untouched. It's a black eye we didn't need to have this week, but it's been well handled and we can move forward with confidence in our racing business,» part-owner Peter Tighe said.
Fellow owner Debbie Kepitis said: «Thank God for Winx.»
Just do the right thing. You might not get there as quickly, but you can go to bed at night and sleep knowing you're doing the right thing for your sport.

Chris Waller
Trainer Chris Waller, who went out of his way to personally greet nearly every Winx fan, said of the forgettable week for the industry: «It won't be the last racing scandal or last sporting scandal.
«Just do the right thing. You might not get there as quickly, but if you do the right thing, you can go to bed at night and sleep knowing you're doing the right thing for your sport.
«Winx will do her best to put a few more front-page stories in the papers, which will flow on to the TV.
«That's what Winx fans and supporters want, but what the whole sport wants.»
Sydney's wild storms saw water flow through Waller's Rosehill training yard on Friday night, but the stables remained dry. Winx had her temperatures taken at 3.40am, she was given a quick walk and a third of her breakfast »only because we didn't want her running on a full belly».
Loading
Winx was loaded on to a truck at 5.45am, was checked and hosed down upon arrival at Randwick, then took to the track just after 8am.
The tough mare returned home, was given the rest of her breakfast and spent 10 minutes in the afternoon on an aqua-walker, a treadmill submerged in salt water cooled to six degrees celsius.
Tighe said there had been no thought about which lucky stallion would be the first to cuddle Winx.
«If we can hold everything together and she pleases her trainer, we'll have our swansong in the Queen Elizabeth on April 13,» Tighe said.
«We're happy for the fans here in Sydney and around the world to see her out on a winning note if we can.»
Kepitis said she normally saved her GP check-up until after Winx's campaign, not before, because »you need to make sure you're still alive when your heart is out of your body a lot of the time.»
Christian covers rugby league for The Sydney Morning Herald.