Its well past time for Andrew Barr and Gordon Ramsay to consider the safety of Canberra citizens not the welfare of criminal bikie gangs. Anti consorting laws NOW!!!!
Irrespective of consorting laws, the criminal activities perpetrated by motorcycle gangs are already illegal. They should be prosecuted.
I do not understand the apparent reluctance for Messrs Rattenbury and Barr to deal with the bikie crisis in Canberra.
The continued use of the term «bikie» should be dropped as it is a hyped, negative, insensitive term that is discriminatory and offensive to law abiding citizens who also happen to own and ride motorcycles. The people being targeted are criminals who consort with one another in some form of association like a «club» but who also may ride a particular brand of motorcycle.
The ACT government rejecting calls to legislate against outlaw motorcycle gangs is incredible. Human rights indeed!
The ACT town council (government) didn't think about the fact without anti-consorting laws, ACT would become an attractive haven for crims. We have now gone from one bikie gang to five.
What has to happen before the Barr government wakes up that the ACT is a haven for bikie gangs. Don't they listen to their police force?
Anti-consorting laws seem to be a bit of a no-brainer. Who wouldn't want them?
Should the ACT government allow an annual commercial harvest of kangaroos?
Yes75% No12% Unsure 13%
This last year for the first time ever, we had kangaroos seeking sustenance from our lawn. The ACT does need to reduce the numbers of kangaroos but this needs to be controlled and as humane as possible. I would be concerned that commercial culling could have negative consequences.
Given the demonstrated total ineptitude of our current ACT government, there is no way it could be relied on to control or direct a successful cull of kangaroos.
If the present practice of culling by the ACT government does not allow for «salvage» of the carcasses for commercial purposes, then it seems reasonable that an alternative making full use of the culling should be permitted. However, the ACT government should receive some financial benefit from the arrangement as well.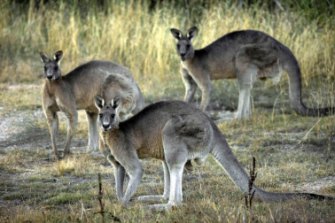 Large numbers of kangaroos devastate the environment. We as a community should be less squeamish, and follow NSW's lead and commercially cull them routinely without all the overblown green posturing.
We have to do something about the roos. Anyone who keeps horses in Canberra's government paddocks knows that the horse stocking rate is kept low because of the impact the huge number of peri-urban roos have on the pasture. It's not their fault; we have created the perfect pasture ecosystem for them to keep breeding.
Should the ACT government allow an annual commercial harvest of kangaroos? No, it should remove outer suburbs, one by one, and stop building new ones.