Peter Apostolopoulos was devastated that the cafe had closed, saying when his family owned it, it had been thriving.
«It's an institution in Barton,» he said.
«It was always very busy. And the amount of diversity — tradies, public servants, accountants, it had taxi drivers. And they all sat together and it was a sight to see.
«It was like the old days, it didn't matter what you did or who you were, it was your personality and the comfort of good food that were important.»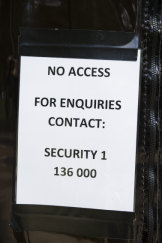 Spiro Apostolopoulos told The Canberra Times in 2015 that he was keen to maintain the retro feel of the cafe, saying it was a place where public servants could have hot chips for breakfast.
His son could not understand why the cafe had closed under new ownership but believed when his family left the business, it was going great guns.
«We'd be doing more than 250 scallops a day, 50 to 60 schnitzels, three or four pork roasts,» he said.
«We would get in there at 4.30 in the morning to start the prep and by 4.45 the cafe would be full of taxi drivers.»
Peter Apostolopoulos said he had heard whispers the cafe would re-open mid-year. He was interested in returning to the business, but, at this stage, that was just a wish. By the end of their tenure, he knew all the customers' coffee orders by heart and «really loved them».
«I'd buy that shop back in a heartbeat,» he said.
«But I'd only do it with my dad because he has the experience, the wisdom.»
Megan Doherty is a reporter for The Canberra Times