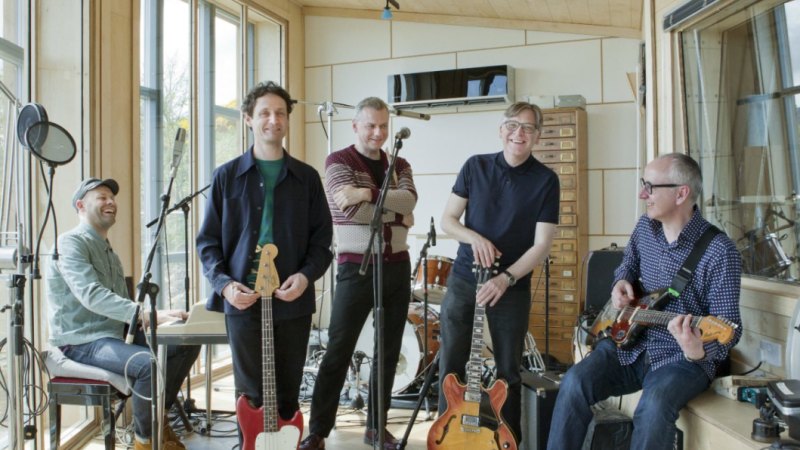 So it's fair to say when they rocked up at Perth's Capitol Bar on Saturday night, the bar was set high.
First up it was supporting act and locals Turnstyle, who brought the indie rock tunes they have become well known for.
Sprinkled among the old favourites, such as Novak's Plan and Spray Water on the Stereo and Cologne, were tracks off their new album, the Happy Factory — and their effort led seamlessly into the headliner.
The Scottish five-piece made an understated entrance with no walk-on track or arresting spotlight, but were greeted very warmly by the packed Perth crowd as they took the stage.
And off they went.
To describe the sound of Teenage Fanclub is a challenge, but if I was to give it a crack, it would be a mix of the vocal prowess of the Beach Boys and the Byrds — with the sonic punch of Nirvana and R.E.M.
Ultimately imagine jangly guitars with a bit of fuzz juxtaposed with clean precise vocal harmonies.
Some of the band's new and quality offerings were mixed in with the more well-known songs, and served to emphasise Teenage Fanclub's overarching ethos: a band is not a jukebox.
Of course, the night wasn't without a few hurdles. Singer and guitarist Norman Blake told the crowd it had been a while since they had last performed due to a nasty bout of the flu that struck them down in Japan, and it was noticeable Raymond McGinley was pushing past with some extra vigour.
The result wasn't disappointing, but the absence of long time vocalist and bassist Gerard Love meant the bands more famous songs like Sparky's Dream, Star Sign and Radio were left off the set list.
They still kept the crowd's attention with fan favourites, and after Blake announced one final song, the show felt like it was over too soon.
Of course, an encore was called and the Concept brought the house down — before the band let the punters down easy with the lush mid tempo show closer Broken.
As the crowd streamed out — one takeaway from the evening was clear: it's easy to see were Coldplay got their ideas from.
The band are set to continue their tour with upcoming dates in Queensland, New South Wales and Victoria.