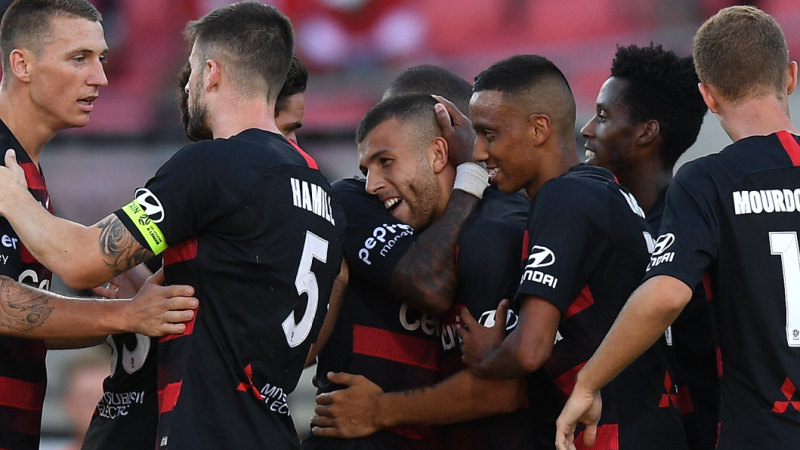 In truth, there weren't many on hand to celebrate. The Wanderers active supporter group, the Red and Black Bloc, didn't bother to show up. The only murmurs heard were a few chants from  Mariners supporters in the official crowd of 7064 in the  24,000-capacity Spotless Stadium.
It wasn't a match that would be remembered fondly, but it was a result that could kickstart a late season resurgence for Western Sydney. Finals football remains highly unlikely,  but the long-awaited victory could provided some much needed optimism. For underperforming coach Markus Babbel, it's the first step towards staking his claim to remain at the club.
It was an afternoon where the Wanderers needed to make a statement. Before kicking a ball, the club did just that. Stadium staff were instructed to take down advertising boards of sponsor Thai Airways in a   show of support for footballer  Hakeem Al-Araibi, who is imprisoned in Bangkok.
Unfortunately, the players were slow to follow suit. In sapping conditions, the Wanderers took 25 minute to create their first genuine chance on goal. A brilliantly delivered free-kick from Roly Bonevacia picked out the run of Spanish striker Oriol Riera in front of goal. The unmarked Wanderers marquee looked certain to open the scoring but his powerful header was saved by an astute Ben Kennedy in the Mariners goal.
The hosts suffered a setback when forward Kwame Yeboah was forced off minutes later with a hip injury. He was replaced by Bruce Kamau and the change didn't alter the slow and staccato tempo of the match. The few fans who  did attend had to wait until the end of the half for the next chance on goal, when  Jordan Murray tested Wanderers  goalkeeper Vedran Janjetovic from close range.
Riera was given another point-blank header but hit the post. Just as Western Sydney looked doomed to another hapless evening, a stroke of luck fell their way in injury time. Fullback Tarek Elrich delivered a dangerous cross to the far post that  deceived the Mariners defence and sailed in at the far post, making it 1-0 in bizarre fashion.
A lifeless second half ended with one last moment of joy for the hosts. Winger Jaushua Sotirio sealed the win with a composed finish in the 79th minute in a fine counterattack instigated by Bonevacia.
With each defeat, Central Coast Mariners edge closer towards finishing the season with the fewest points per game in A-League history.