French Interior Minister Christophe Castaner went to Twitter to express his «disgust» as protesters set alight an anti-terror military car. Its yellow smoking plumes, against the backdrop of the Eiffel Tower, made for a powerful image of rejecting authority.
Such vehicles have been a common sight in Paris since deadly extremist attacks in 2015.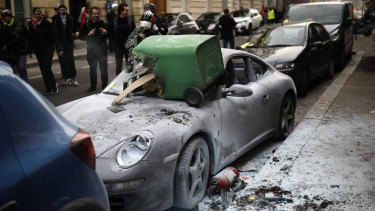 «Every day the military … protects our compatriots from the risk of terrorism. These attacks are intolerable,» Castaner said.
Police said 31 demonstrators had been arrested in the unrest. But France's Interior Ministry said this week's protest was significantly smaller than last week's.
The yellow vest activists, who have brought hundreds of thousands onto the streets over the past three months, are now trying to achieve electoral success but the movement is politically divided and has no appointed leader.
Loading
French President Emmanuel Macron — the target of many demonstrators' anger — seems to be clawing back support from the public as he tries to address the movement's anger with a national political debate on economic injustice. Recent polls show Macron's approval ratings are rising.
Earlier on Saturday, activists in Latvia staged a picket in front of the French embassy in Riga, the capital of the small Baltic EU country, to support the yellow vest movement and urge Latvians to demand higher living standards.
The activists waved Latvia's red-and-white flag, shouting slogans like «the French have woken up, while Latvians remain asleep».
In Rome, tens of thousands of people took to the streets to protest the course of Italy's populist government.
Several unions called for the protest on Saturday in order to draw attention to inequality, unemployment and racism under the government, which came to power last year.
«The government has to come out of its virtual reality and enter the real world,» said Annamaria Furlan, the head of the Italian Confederation of Workers' Trade Unions Cisl.
«The country must be united, not divided,» said Maurizio Landini of the Italian General Confederation of Labour Cgil.
There were no official attendance figures, but local media reported turnout as high as 200,000 people.
Rome's populist government — made up of the Five Star Movement (M5S) and the far-right League — has alienated many Italians with its anti-immigration stance and other controversial policies.
AP