Speaking to ABC TV's 7.30 program hours after his resignation, Dr Henry apologised and said of his performance at the banking royal commission hearings: "I did not perform well."
I'm hoping this will mean NAB want to raise its standards and its services.

Dom Poole, NAB customer
But some people were even harsher in their views of Dr Henry and Mr Thorburn's royal commission performances.
Fifty-three year-old Symn, doing business banking with NAB in the Sydney CBD, says the chairman's attitude at the royal commission hearings was "disgraceful, it was disgraceful".
"I think that [Mr Thorburn and Dr Henry] dragged their heels [in leaving]," he says.
"I think that they didn't want to go. It was a bit of showmanship last night when Ken Henry went on to 7.30 and he was very contrite but he was only contrite because he was forced out."
This added scrutiny on NAB's affairs and internal culture can work in customers' favour, Dom Poole thinks.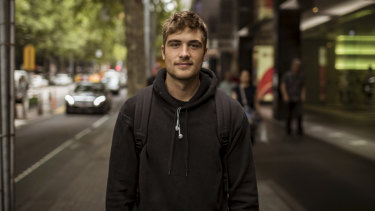 The 25-year-old opened a business account with NAB on Friday — a day after the banking royal commission claimed Mr Thorburn and Dr Henry's heads.
"If these things are brought to light, I'm hoping this will mean NAB want to raise its standards and its services," he says. "So if anything, it might work in my favour."
Greensborough man Trevor Armstrong has banked with NAB for more than 20 years. He has considered switching banks but not because of the fallout from the royal commission.
"They're making it harder to bank with them, closing down branches, removing ATMS, removing rediATMs," the 52-year-old says.
"It's becoming harder to access them."
Given the economy's reliance on the banks, public sentiment against the banks should not be as negative as it is, according to Sydney woman Lyn, who works in the finance industry.
"Some of the dodgy people stuff up the business but most of the people are pretty good and do the right thing," the 33-year-old says.
After a brief stint in Melbourne five years ago, New Zealand man William Sew Hoy returned last month.
He maintained his NAB account, which he opened in 2014, following a recommendation from a friend.
"So I didn't do too much research," he says. "I might look into this bank situation a bit more now. I've just been following NZ news since I got here."
Sumeyya is a reporter for The Age.
Nick is a journalist for The Sydney Morning Herald.