Father Percy said they had been made aware of the site over the Christmas break when a friend of a church-goer had searched for mass times.
He said it was unlikely people would click on the link. But, when this reporter searched for the church on Google, the pornography website was the third and fourth listings.
The site was reported to police on January 4, however as pornography is not illegal and the site was not hacked, police have no jurisdiction in the matter.
The church had also asked for advice from their current website host.
A concerned mother who accidentally entered the site when searching for information about a concert at the church said she was shocked.
"I looked up the church and clicked on the link and I ended up on the very awful hardcore porn site," said the woman, who spoke on the condition of anonymity.
"I was actually looking for a site to tell me about the classical concert being held at St Christopher's."
"I panicked that I had somehow done something and that I'd been hacked, that something had happened to the computer by clicking on this link."
She said she worried that her children could be exposed to such images by clicking what was otherwise an innocuous link.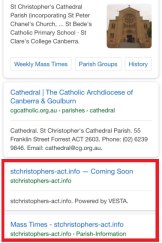 "I'm just grateful I didn't have the kids with me at the time,» she said.
"I'm sure the church doesn't like the idea of someone trying to find something on their website and being linked to porn. I don't really understand how these things work, but it definitely needs to be taken down."
«I was thinking at the time that for church-goers, that would be a big shock.»
The pornography site has been active for at least a month, and appeared to have taken over a previous domain name used by the church.
When this reporter contacted Google, a spokesman said the page was in breach of their webmaster guidelines and they would be taking action.
Google can take action when it determines that a page has breached their guidelines. According to the search engine, for most issues reported it will result in the site being ranked lower or omitted from search results.
According to the guidelines, under the title, «creating pages with malicious behaviour», it states that distributing content on a website that behaves in a way other than what a user expected is a violation.
An ACT Policing spokesman said while they didn't have jurisdiction in this matter, they recognise that clicking on a legitimate internet domain taken over by an unrelated operator could be distressing. They reminded parents to monitor children's internet use and consider the use of internet filters to limit objectionable material being displayed.
Kimberley Le Lievre is the Editor of The Sunday Canberra Times