Loading
Valetini is one of the hottest prospects in Australian rugby and was picked as a Wallabies spring tour
development player despite playing just three matches last year.
But McKellar says no one is guaranteed selection as Tom Cusack and Lachlan McCaffrey jostle for a
spot in the squad for the season-opener at Canberra Stadium.
Samu played for the Wallabies before he joined the Brumbies squad after deciding to leave the most
successful club in Super Rugby history, the Canterbury Crusaders, to move back to Australia.
«I've obviously played a bit with Poey and I'm pretty excited to get out there [with the other back-
rowers],» Samu said.
«I think it's good for the team when you've got guys competing, you help each other out and you get
better as you go. I definitely think everyone is putting their best foot forward for round one.»
The Brumbies have added Jahrome Brown to their squad for back-row cover after Ben Hyne suffered
a season-ending knee injury before Christmas.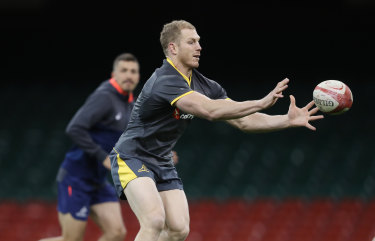 Pocock will likely miss at least two games during the season as part of a Wallabies load management
plan, which will give McKellar an opportunity to test all of his combinations.
Samu can play in any of the back-row positions, but has spent most of the pre-season at No. 8 to
fine-tune his skills at the back of the scrum.
Loading
«I thought Pete had some really good touches [in the last trial], his first carry was outstanding,»
McKellar said.
«It was just good to see Pete in a Brumbies jersey and he'll be better for the hitout. We've been
working in the background and now it's just about fine-tuning.»
The Brumbies are wary of putting too much pressure on 20-year-old Valetini after his rise was stalled
by two knee injuries last year.
But many believe he can be the missing back-row link Australian rugby has been searching for since
Toutai Kefu retired and his combination with Samu and Pocock could transfer to the Wallabies.
Wallabies coach Michael Cheika lured Samu back to Australia and he joins the Brumbies having
helped the Crusaders to back-to-back titles.
«Rob has a big future ahead of him, he's a big boy and I'm really excited to hopefully play next to
him,» Samu said.
«It's come around quick … I'm pretty keen to come into the system and get around the boys. We've
got a bit of momentum going, there's a good vibe and hopefully we take that into round one.»
SUPER RUGBY ROUND ONE
Friday: ACT Brumbies v Melbourne Rebels at Canberra Stadium. Tickets available from Ticketek.
Chris Dutton is the sports editor at The Canberra Times.