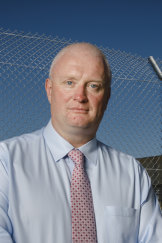 During his time in jail, Islam has made more than 20 separate claims of discrimination against corrections officers, sought orders requiring prison management to ensure officers and contractors did not breach the Human Rights Act, and for two officers to undergo remedial training in relation to discrimination, unlawful search and seizure, and inmate safety.
Islam began his hunger strike on December 9. He was transferred to the Canberra Hospital on January 10. He has not eaten for 62 days but is drinking water.
At the core of the high-stakes stand-off is Islam's fierce determination to remain on a hunger strike until the executive director of ACT Corrective Services, Jon Peach, or a delegate equally empowered to make decisions on Mr Peach's behalf, agrees to meet with Islam and address his concerns.
Mr Peach previously met with Islam in December but the prisoner claims this was a cursory meeting, with no desire on the part of ACT's Corrections' top executive to achieve a resolution.
Islam previously made a number of written demands which were beyond the authority or legal capacity of the ACT government including early release, monetary compensation and settlement of his personal debts.
Loading
However, in his interview with The Canberra Times on February 1, Islam reduced his key demand to a meeting with Mr Peach or his representative to «negotiate in good faith» around issues relating to his general treatment in prison, his dietary needs and the practising of his Muslim faith.
He also said he had renounced violence and was seeking to resolve his ongoing dispute with the prison and his ill-treatment through the non-violent, non-confrontational methods.
In a statement, ACT Corrective Services said that it «remains willing and ready to engage with the detainee with a view to resolving his concerns.  However, this is contingent on the detainee following health advice and commencing re-feeding».
«The detainee has alleged that he has been vilified on occasion from other detainees while attempting to pray. While ACT Corrective Services endeavours to eliminate any alleged instances of this kind, this cannot be wholly prevented.»
Islam's view is that should he accede to the government's request and begin eating again, he loses the only bargaining tool he has left with which to press his claims.
Peter Brewer is a Canberra Times reporter.