«It's a fairly new sport that's quite big in Europe,» Ms Kasmawan explained.
But while it may be new in town, HMB takes its history seriously.
Competitors use steel and, as the dents in their helmets attest, hold nothing back when trying to best their opponent.
«It is a bit of a disadvantage being short,» Ms Kasmawan admitted, adjusting a bandage on her finger as burly bearded blokes adjusted their armour around her.
Loading
Not that she showed any fear.
«It can hurt a bit if it finds a gap in your armour,» she said. «But mostly it's just cuts and bruises.»
The knights weren't the only crowd showcasing their unusual skill-sets.
Matt Kempton and Alisha Lawrie caught the train in from Mooroolbark with a bag full of tricks.
Mr Kempton was juggling his poi — which look similar to balls on a rope — in front of a stage showcasing up-and-coming bands.
«They started of as a New Zealand dance prop,» he said.
«Now they've been incorporated into the object manipulation, circus scene.»
The pair said the ramshackle, vibrant nature of the festival meant they had no plans but to wander — and catch Cat Empire.
«That's what's great about this festival,» Mr Kempton said. «Normally that would cost you $60, $70!»
Earlier the likes of Mojo Juju and Troy Cassar-Daley were among the other live acts.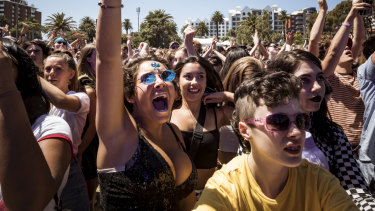 More than 400,000 people were expected to attend the festival.
Police warned on Friday it was an alcohol-free event and people caught drinking would face on-the-spot fines.
On Sunday, Acting Sergeant Glen Kohler said changes to liquor regulations seemed to be having a good effect on the family friendly day.
At 4.40pm he said there had been no arrests nor signs of trouble.
«It's a good day to be working to be honest,» he said.
Joe Hinchliffe reports breaking news for The Age.