Mr Morrison described the upgrade as a "game changer" for motorists in the area.
"This will solve the congestion headache problem for the more than 20,000 motorists who use this route every day," the Prime Minister said. "We're building on our plan for Australia's future population by busting congestion in places like Pakenham."
Infrastructure promises, including new rail and road projects, played a decisive role in the Victorian Labor government's resounding election win in November.
The Prime Minister said he wanted to help people get home "sooner and safer", choosing similar words to those used by the Andrews government throughout its re-election campaign.
Loading
Pakenham's fast-growing population has put severe pressure on transport infrastructure, as traffic jams stall commuters from the fringe suburbs starting their travels across the city.
Mr Morrison said his government wanted to reduce pressure on infrastructure in big cities and "connect migrants to communities looking for more workers and skills".
Infrastructure is shaping up as a major battleground issue in the federal election in May.
Racecourse Road runs through the politically sensitive La Trobe electorate, held by Liberal MP Jason Wood on a margin of about 1.5 per centfollowing a recent change of electorate boundaries.
Mr Wood has been campaigning for the road upgrade as motorists complain that traffic queues were extending from the Racecourse Road and Bald Hill Road roundabout to the Princes Freeway.
Racecourse Road is not among the top 10 worst traffic spots identified by the RACV, which lists Alexandra Parade in Clifton Hill, Thompsons Road in Skye and Rosanna Road in Heidelberg as Melbourne's three most-congested roads.
But arterial roads such as Racecourse Road, which links up with the Princes Freeway in the fast-growing south-east, are not coping with the rapidly increasing number of commuters living in the city's outer areas.
Urban Infrastructure Minister Alan Tudge said the upgraded Racecourse Road would provide better access to Pakenham's town centre.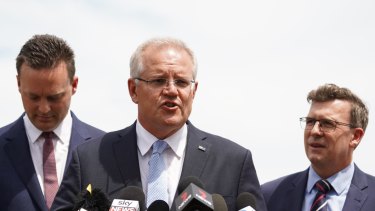 "It will mean faster, safer and more reliable access between the Princes Freeway and Princes Highway, as well as into the Pakenham town centre," Mr Tudge said.
The new road funding announcement links to another election campaign focused on congestion in Melbourne and Sydney, with the federal government already promising $50 million upgrade for the Hume Freeway and $50 million for the Calder Freeway.
This adds to the $5 billion pledged for the airport rail link and $1.75 billion for the North East Link.
Last week, federal Labor leader Bill Shorten said he would speak to Victorian Premier Daniel Andrews about unlocking $3 billion in federal funding reserved for the dumped East West Link if he was elected.
The Morrison government is insisting that the money still be used for the East West Link.
Mr Shorten said he would invest $300 million in the suburban rail loop and match the $5 billion promised for the airport rail link.
Benjamin is a state political reporter
Timna Jacks is Transport Reporter at The Age