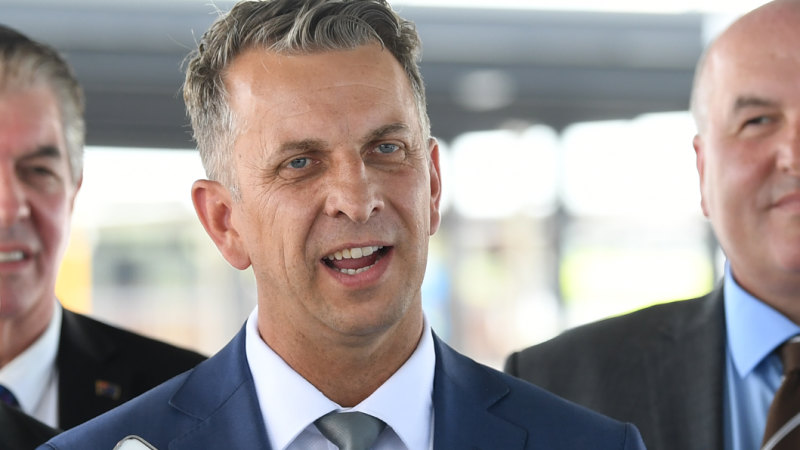 A spokesperson for Mr Daley told the Sun-Herald his office didn't know who made the August call and whether or not it related to the speeding incident earlier that year. The spokesperson declined to comment further.
On Saturday Mr Constance called on Mr Daley to answer a list of questions over the incident, including asking whether or not he requested his staff to put a hold on the infringement.
A spokesperson for Mr Constance told the Sun-Herald the Minister would welcome a review into the hotline but qualified that it was also a useful tool for his constituents in addressing fines.
Mr Constance said he would never use the hotline to assist a family member or a friend.
A spokesperson for Finance, Services and Property Minister Victor Dominello, who is responsible for the hotline, said the Minister declined to comment on whether or not the hotline should be scrapped or reviewed.
Loading
Mr Daley called on the government 'dirt unit' to produce records of the phone call.
"This government and its self-proclaimed dirt unit has breached the Privacy Act and the ICAC Act by illegally accessing private information of hundreds of NSW citizens including me," Mr Daley said on Saturday. "I want the Premier to show me and the people of NSW the official records that her people have accessed."
It's understood the hotline allows MPs to have a constituent's fine placed on hold to allow time for it to be scrutinised or challenged.
In a letter sent to NSW Premier Gladys Berejiklian on Friday afternoon, Mr Daley wrote it appeared that the article was based on documents leaked by a government office that included personal details of hundreds of NSW citizens whose MPs had used the hotline on their behalf.
He said he understood that the release of such information was illegal and that he had contacted the NSW Police Commissioner, the Privacy Commission and the Independent Commission Against Corruption asking them to investigate.
When asked about Mr Constance's comments on Saturday, Mr Daley said the Transport Minister «should ask the Liberal Party dirt unit how they accessed that (information) illegally.»
«This really says everything about a desperate and, I think, dying government. They don't have anything positive to say. They're just trying to bring me down, and they won't,» he said.
Angus Thompson is a court reporter for the Sydney Morning Herald.