Smith and Cummings were champions with thoroughbreds but Green shone like no other in moulding saddle greats, and Quinton has continued the tradition, being second only to his former master.
The genius of Green is emphasised by Quinton, who has tutored Hugh Bowman to a status where Quinton puts him in the same category as George Moore.
Others to graduate under Quinton include Sam Clipperton and Andrew Atkins, a pair whose best is yet to come.
Still, they pale in comparison to Quinton, Beadman and Johnston.
Perhaps McNeice is no Tarrantino but magnificent at the documentary caper, with credits ranging from  Tulloch  to the  History Of Radio  and  Families Of Crime, and he has turned his focus to the master horseman. Fortunately, he has video of Green and his "boys" at their development stage.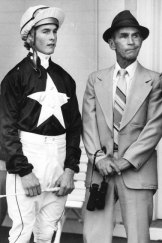 Apart from the top three, Gordon Spinks, another Green graduate, was a saddle classic and, while John Duggan didn't make the top three, he did notch a Golden Slipper (Vivarchi, 1976) and Melbourne Cup (Gold And Black, 1977).
Without much formal education, let alone academia, but time as a wharfie, a boxer, labourer, electrician and an apprentice jockey gave him an unlikely seasoning as a teacher: patience and the knack of communication in a dialect more Surrey Hills than even Randwick.
Green usually had a sparkle in his eye and a matching smile, but he would have been a formidable opponent wearing his ring face.
McNeice has captured vintage Green. De Niro would have played him well, which will be a wonderful reference to future generations.
Green regarded Stone, destined for dead-end kid status before coming under his wing, as the major graduate. Due to his size, Stone was never going to be a jockey, but Green transformed a pugnacious rebel into the stable foreman, big brother to the boys and a major asset to racing.
"At the time I thought I could fight a bit and came home one day with a couple of cuts. Theo said throw a towel in the bag and we'll go up to the Police Boys Club in Parramatta. He said 'son I'll beat you with one hand'. And he did," Stone related when I was researching Good Losers Die Broke.
The Green curriculum covered not only riding  and racing but life in general.
"My boys can't all be champion jockeys but when they leave the stable they will have a trade," he stressed. Stone became a horse dentist, a specialist in the area.
Stone reckoned Quinton was the best jockey to graduate under Green, who picked Beadman as a champion before he had a race ride.
Loading
"Darren, in eight days, picked up what it took Ron Quinton eight months to learn," Green told me many decades ago before Beadman had his first official mount.
"He has got something, difficult to describe but I just feel it," Green explained.
Green took them as young boys, around 15, some without any experience with horses, and educated them into marvels on horseback. Quinton is following the tradition.
"The boss was deaf in one ear so you had to speak up," Beadman recalled. "And when he talked, his voice had authority. You had to listen. Always present was the dry sense of humour."
Green came from a boxing family, was a flyweight contender but didn't encourage his boys to fight – although he maintained an eye for any that could.
"George Moore was upset with Ronnie  Quinton and told me he would give him a clip over the ear," Green mentioned to me. «Be careful George," Green warned. "The kid can go a bit".