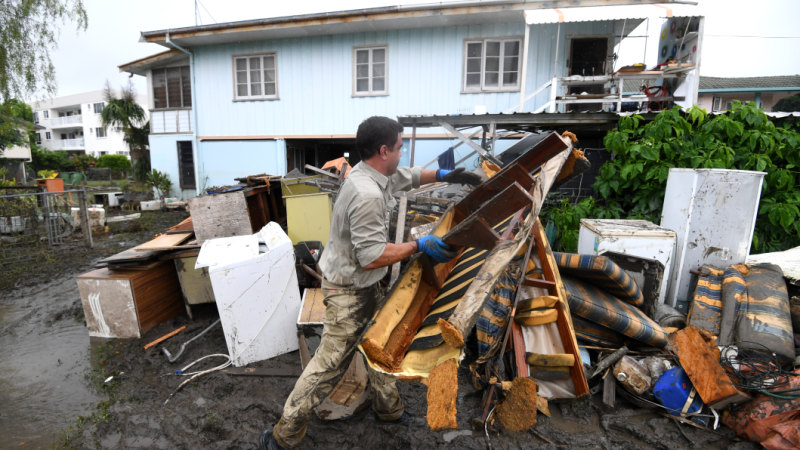 «If they want to rebuild trust with Australians, then it's going to start here in Queensland, in Townsville and in the north-west,» she said.
Loading
«After every disaster here in Queensland we tend to get these arguments and these conflicts where people are, after being traumatised, are trying to deal with insurance companies without documentation, they've had their documentation washed away in the floods.
«What we expect from insurance companies is a level of sympathy and compassion and responsiveness to the people of Queensland right now in their time of need.»
LNP leader Deb Frecklington also called on insurance companies to «ditch their tricky tactics», including issues with the definition of whether properties were inundated with storm water, and pay out policies.
«These hard-working family businesses have done the right thing, they've paid their premiums and now they've been devastated by this disaster,» she said.
«The insurance companies are already saying we're not going to pay out your premiums.»
The Insurance Council of Australia said it would hold two forums in Townsville in the coming weeks to guide policyholders about making a claim.
About 13,560 insurance claims amounting to more than $165 million have been lodged after more than a year's rainfall was dumped on large swathes of north and western Queensland within days.
On Sunday, Emergency Services Minister Craig Crawford signed the declaration lifting Townsville's disaster status, on the advice of State Disaster Co-ordinator Bob Gee.
Mr Crawford said the decision came after it was determined that the risk of loss of life, illness or injury to people, risk of property loss or damage, and damage to the environment had significantly reduced.
But he said there was still a long way to go in terms of the recovery effort.
«Within the next 24 hours our evacuation centres should be empty with everyone in need in proper accommodation,» Mr Crawford said.
«Most of our schools are ready to open and hopefully they will all be reopened by the end of this week.»
Mr Crawford said authorities were still working with western communities and property owners who were still dealing with the flood.
«There continue to be shocking stock losses and we know they are really hurting and we are doing everything we can to get help to them,» he said.
-with AAP
Felicity Caldwell is state political reporter at the Brisbane Times