The party, whose membership is largely made up of gun enthusiasts, is no longer viewed suspiciously as a single issue group. It is becoming a legitimate right-leaning option in the bush.
It might have seemed odd, then, that last week the Liberals, not the Nationals, launched a strike on the Shooters, with the Premier and her deputy, Treasurer Dominic Perrottet, leading the charge.
Gladys Berejiklian warned that the Shooters were a danger to the state, seizing on a now abandoned policy of allowing 10-year-olds near guns as proof that they were a party to fear.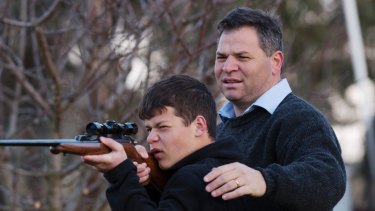 She doubled down on her position not to do any preference deals with them and then said she would not work with them to form government if she found herself without a majority of seats.
Apparently she would prefer to be in Opposition than rely on the votes of the Shooters. Unlikely.
Then, on a quiet trip to the seat of Orange on Wednesday, the only lower house seat the Shooters hold, Berejiklian upped the anted with a porkbarrelling offer.
Orange residents would receive a new $25 million stadium but on the condition they vote for the Nationals. If the Shooters MP, Phil Donato, wins, bad luck Orange. No shiny stadium for them.
While porkbarrelling is standard (and expected) in all election campaigns both state and federal, this was unprecedented. The Opposition labelled Berejiklian's threat as «blackmail».
The Shooters are not a new party. They have been in the upper house for all the eight years that the Coalition has been in power. Yet, suddenly, the Liberals want voters to be afraid. Very afraid.
The Shooters will not be able to wind back guns laws and they will not be able to put guns in the hands of 10-year-olds. But they might be able to end the Nationals' reign in some bush seats.
The Liberals may not like the Shooters but that is not what is scaring them. Their fear is that they will knock off their National cousins. And with an election to be won and lost in the bush, it is no wonder they are scared.
Alexandra Smith is the State Political Editor of The Sydney Morning Herald.