Keary won the Clive Churchill Medal and made his Kangaroos debut against New Zealand last year and will put pressure on James Maloney for the NSW No.6 jersey this season.
«There are a lot of things Cooper and I can improve on, and it took me a while to understand his game,» Keary said.
«Looking from the outside in, it's not what you think. I need to take more responsibility in different parts of the game and take a bit of pressure off him.
«Even the kicking game, I can take some pressure off there. It's not so much about me and him, but the players around us will get to know how he plays and how I play with him. Another year with 'Teddy' [James Tedesco] and Jake [Friend] will help.
«We'll need to improve again – our attack still wasn't where we wanted it to be – but we've got some areas we've identified we'll work on the next month. Defensively, to finish No.1 [in the competition] was great. But we've spoken about a few areas we didn't finish No.1, and we'll try to finish No.1 in.»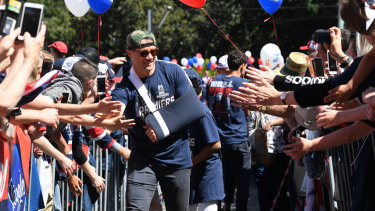 A strong start by the Roosters will only help Keary's Origin cause, but he said he only had to look to his halves partner to realise it can often be a waiting game.
«I've said it for a couple of years now, I want to play a few good years of football, then I'll get my chance,» he said. «Cooper went through four, five, six years of first grade before he got his shot, and then he got his shot off the bench.
«Jimmy [Maloney] did a good job last year, so did 'Nath' [Nathan Cleary] and they deserve another crack because of the job they did in 2018.
«There is a good group at the Blues. Freddy [Fittler] has brought in the likes of myself, Ryan James and Nick Cotric, and it feels like a team. It doesn't feel like a selection process. If a name is called out, you're ready to go. It's not like you're an outsider hoping you'll get a go.»
A big question will be whether Cronk plays on. Now 35, he is only signed until the end of the year and Shaun Johnson revealed before signing a three-year deal with the Sharks he had been in talks about replacing him at the Roosters in 2020.
Keary said if Cronk did reach a decision, he would announce it after his last game, rather than make it a drawn-out farewell.
«I don't know, I'll ask him,» said Keary, when asked if he was aware of Cronk's plans beyond 2019.
«He's a man of his word, and when he knows, he will be straight up with the club. He won't want a parade every game, so if he finishes, we won't find out until after it.»
Keary, who turned 27 on Saturday, said he was pumped to watch the rise and rise of Latrell Mitchell.
«We've had conversations, he knows he's got a lot of improvement left, but I can't wait to watch him the next 10 years,» Keary said. «As a fan of the game, I just want to give him the ball and watch.»
The Roosters will fly to France next week where they will prepare in Paris – and visit the Anzac memorials in Somme – before continuing to England for the World Club Challenge against Wigan.
Christian covers rugby league for The Sydney Morning Herald.