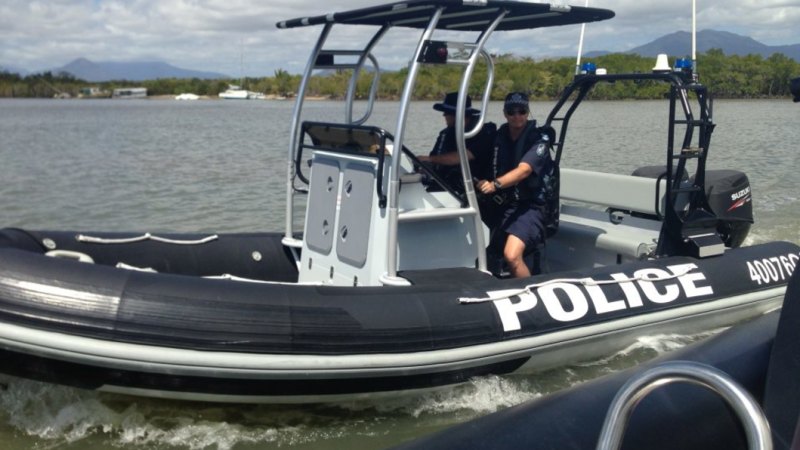 Paramedics treated one man suffering from facial and suspected spinal injuries who was then taken to Ayr Hospital in a stable condition.
Police had coordinated a search with water police, swift water rescue crews, a helicopter and a number of other vessels.
The search was called off about midnight but was resumed on Saturday morning.
Acting Inspector Matt Lyons said their priority was to find the missing man before they would begin investigations into how the incident occurred.
«Early advice is that once the male hit the water, he hasn't been seen since,» he said.
«At this stage it's too late to speculate what the cause of the accident was but suffice to say that the lives of three families have changed.»
Inspector Lyons said he warned everyone should take precaution near creeks and waterways because the flood event was an unprecedented event.
«Our message to the public is simple: for every action there's a consequence,» he said.
«Sometimes the consequence is nothing happens and other times that can turn tragic.»
Inspector Lyon said the search would continue, with hopes they would find the missing man alive.
«His next of kin are down there on the water looking for [him] so let's hope there's success, that we can reunite him with his family,» he said.
Groper Creek resident Dan Garvey, who lives opposite the jetty, said he watched in shock as the boat crashed into a pylon.
«It nearly flipped completely with the impact,» he said.
«I thought two of them fell overboard and thought I saw one down the stream but I've been told one of them was thrown in the air and landed back in the boat.
«The one that fell back into the boat was taken to hospital because he was pretty banged up.
«The driver was hanging on to the motor so he was lucky.»
Mr Garvey said he was among other witnesses who saw the incident and some had taken their own boats out to help.
«It was pretty scary,» he said.
«They hit the pylon pretty hard with the rapids and the young fella thrown off never surfaced, he just didn't come up.
«It must be pretty devastating for the family and we just hope, by some miracle, the young fella is OK.»
Jocelyn Garcia is a journalist at the Brisbane Times, covering breaking news.