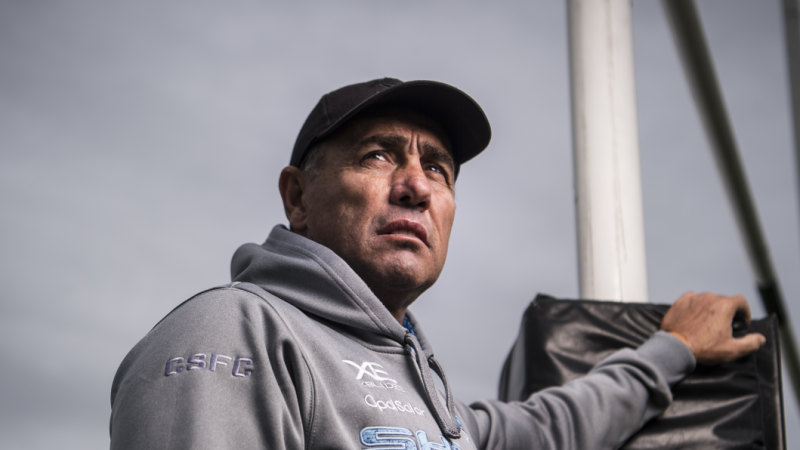 "We would want to try to stand shoulder to shoulder with NRL decisions, but it is really a matter for the RFL," Super League chief executive Robert Elstone said.
"It will be down to the RFL and its compliance and regulation team. It's one for them. It won't be a Super League decision, I wouldn't think."
It is understood that if the NRL bans Flanagan for a specific period then the RFL would prevent him from coaching in the Super League until that suspension has been served. However, if he is deregistered indefinitely, the RFL could use its discretion, opening up the prospect of an immediate switch to the Super League.
"As we said in specific relation to the Ben Barba situation, we will always uphold any ban imposed by the NRL," the RFL said in a statement provided to The Sun-Herald.
"But that will always be subject to the right of appeal to our own operational rules tribunal, and in other cases there would be an element of discretion for the RFL board, in consultation with Super League where relevant."
With the Super League season only just kicking off, there are no head coaching positions available. However, a man with Flanagan's credentials – he led the Sharks to their first title – would put pressure on underperforming clipboard holders if he was amenable to a UK shift.
Veteran Sharks forward Paul Gallen hoped Flanagan wouldn't be lost to the game.
"He did what he did because he's so passionate about the game, the team and the club and those involved in it,» Gallen said.
"You'd want to see him back in the game. I don't know what he will do. I've had a bit of a discussion with him, but haven't got a lot out of him. He's more concerned about his family at the moment.
"He wants to watch [son and Cronulla half] Kyle play and has a couple of daughters as well. I think he's just worried about his personal life for the time being.
"Fingers crossed we will see him back in the game one day."
Cronulla appointed John Morris as Flanagan's replacement, signing the 300-game playmaker to a three-year deal. Morris has been a teammate to some of the current Sharks players he is now tasked with coaching, but Gallen said that wouldn't be an issue.
"Just the way it all turned out, the timing of it all, it's a good selection," Gallen said. "What happened to Flanno is unfortunate, but we never missed a beat since he left. He won't have any issues at all. We've been training the last four or five weeks really well. His work ethic and leadership is great, so he'll be fine."
Adrian Proszenko is the Chief Rugby League Reporter for the Sydney Morning Herald.