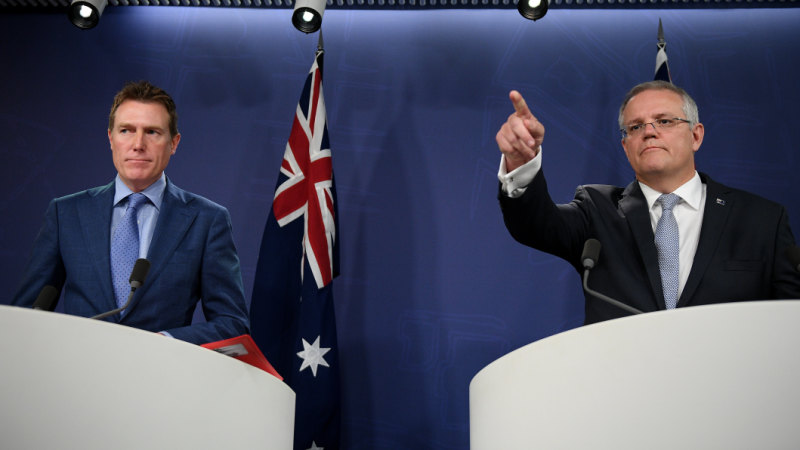 Loading
«Moreover, there will be a need to expand the commission's geographic footprint to establish additional offices in Melbourne, Brisbane, Adelaide, Hobart and Perth,» Mr Tull said.
Australia's law enforcement integrity commission had 53 staff last year, and under the Coalition's proposal, it would cover 20 per cent of public servants once it was absorbed into the new anti-corruption watchdog. The other 80 per cent of bureaucracy officials would receive the scrutiny of the body's public sector division.
Mr Tull said union members in the commission supported the creation of a federal integrity watchdog, and believed it was an improvement on the government's patchwork of anti-corruption bodies.
He urged MPs to create a commission with enough funding to be independent, and said the CPSU's law enforcement integrity commission members believed its coercive powers should apply to all public service agencies to investigate to a criminal standard.
«As a corruption issue is quite broad and captures more things than a criminal allegation, members noted that even where evidence for criminal proceedings may not be met, it is important that evidence gathered, which may be enough to show misconduct, should be able to be referred back to relevant agencies,» Mr Tull said.
The CPSU called for a new watchdog to have a broad scope, and feared rising levels of outsourcing to private operators were increasing the risk of corruption and misconduct outside public sector agencies.
It described as «conservative» its estimate of at least 23,000 contractors and labour hire workers inside the APS. Under the Coalition's model, the new watchdog's branch overseeing non-law enforcement officials would also cover contractors. The division couldn't hold public hearings or make findings of corruption, instead referring cases to the Director of Public Prosecutions.
Mr Tull called for a federal integrity commission to be careful not to violate procedural fairness when making findings of corrupt conduct.
The union backed private hearings as the «default mode» when the matter involved alleged criminal behaviour that may become the subject of future charges before the court, but said public hearings could also play an important role in uncovering agency weaknesses and failures enabling corruption.
Senators will hold a hearing into the crossbench's proposed integrity commission on Friday in Sydney, and are due to report in April. The federal government, which released its own proposal in December, is yet to decide its final model and finished receiving submissions last week.