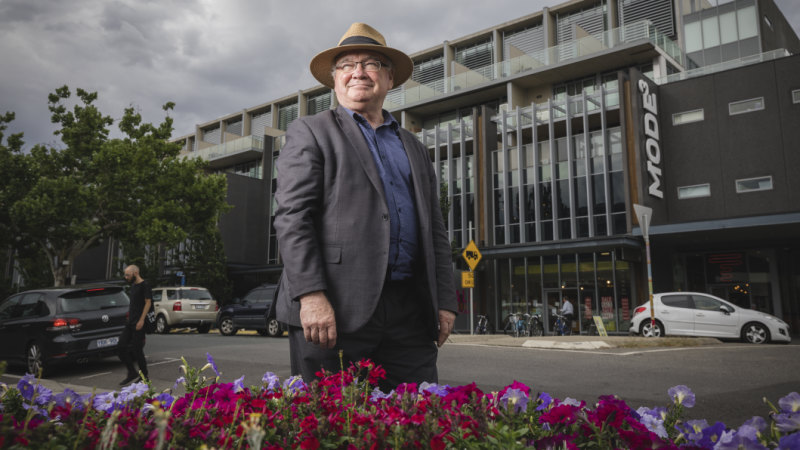 Those areas were highlighted in the government's city and urban gateway strategy released last year that aimed to have some 37,000 extra dwellings built along the light rail route from the city to the land surrounding Exhibition Park.
Loading
Outside of the inquiry, Mr Strong said while new precincts such as New Acton, the Kingston Foreshore and the gentrified Lonsdale Street were good for consumers, creating yet more would likely hit the long-term small businesses hard.
Until 2013, Mr Strong owned Smith's Alternative bookshop in the city, and while he said he drew new customers by diversifying with a bar and live music before he sold it, he found New Acton, a lack of nearby carparks and the expanded Canberra Centre drew foot traffic away from the Melbourne Building shop.
He said new centres like Kingston Foreshore had a big effect on the main Kingston shops and restaurants, putting extra strain on small businesses already struggling with rising rates and other costs.
«I think we've got enough, competition is good and any small business has to keep an eye out and change when it needs to, but there's only so many customers — let's take the time to enjoy what we have before we start creating new precincts» he said.
«Every closed shop I see, I think of employees out of a job and a small business owner who could be losing their home.»
Loading
Mr Strong said he believed the government did not understand small business, citing the failure to provide a light rail stop at Mitchell — the only industrial area along the stage one route — as a clear example.
He also said the characteristics of Braddon's 'organic' transformation from an industrial area to a hospitality-dominated strip were at risk if the government went too far in trying to manufacture such precincts.
City Renewal Authority chief executive Malcolm Snow has said he wanted developers to create new precincts along the route, particularly for the former large public housing sites on Northbourne Avenue in Braddon and Turner.
Despite that, a government spokesman said on Friday the government was not planning any major new commercial precincts along Northbourne Avenue, though it was encouraging more mixed use developments along the corridor.
Loading
He said those developments would add population and more demand for local business and be well-connected to the city centre, while all new developments would be subject to community consultation and the usual planning process.
«The City Renewal Authority's priority is improving the public experience in our existing retail and hospitality centres in Civic, Braddon, Dickson and New Acton to increase the number of people who use these places and encourage them to spend more time there,» he said.
Daniel Burdon is a reporter for The Canberra Times