The closest Australia has come to winning Eurovision was in 2016 when singer-songwriter Dami Im placed second thanks to her song Sound of Silence.
In the running to represent Australia this year include a diverse array of performers, from Bachelor Girl singer Tania Doko to recent The Voice winner Alfie Arcuri.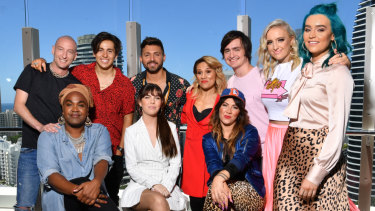 Betting agencies have decided soulful, dance duo Electric Fields are the most likely to win on Saturday evening thanks to their catchy single 2000 and Whatever, which features lyrics in the Indigenous Aṉangu Pitjantjatjara Yankunytjatjara languages.
Other acts tipped to do well include Kate Miller-Heidke thanks to her operatic vocals and theatrical performance, indie band Sheppard – who have a strong following in Europe – and drag performer Courtney Act thanks to her fan base.
Despite being classically trained and having experience with live shows such as The Rabbits, Miller-Heidke says on-stage rehearsals – which began on Wednesday at the Gold Coast's Convention and Exhibition Centre – have been «quite gruelling».
«The production is so elaborate,» she said. «Just on a technical level, the sets, lighting, it's on a whole other scale to anything I've worked on before.
On Saturday night, viewers won't just get treated to the traditional Eurovision smorgasbord of operatic-pop and heartfelt ballads. Former Killing Heidi singer Ella Hooper is hoping to bring a touch of rock to the glitter and glam that is Europe's most popular song contest.
«My whole life I've enjoyed bringing a little bit of grit and a little bit of punkish attitude to the pop world,» she said. «So this feels like a pretty natural progression.»
And should something go horribly wrong – it is, after all, live TV – host Joel Creasey isn't ruling out a repeat of the now-infamous 2018 incident that saw him drop the word «cockhead» into lounge rooms across the country.
«Under no circumstances can I rule that out,» he said. «At my nan's funeral I swore and did an awful North Korea joke. So who knows what's going to happen.»
Eurovision: Australia Decides will air live on SBS on Saturday, February 9 from 8.30pm.
Broede Carmody is an entertainment reporter at The Age and The Sydney Morning Herald